People & Bicycle Shuttle Service
(Rental Customers Only)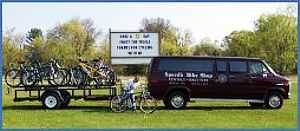 Destination
Cost for
One Person
Norwalk
$30.00
Wilton
$35.00
Kendall
$40.00
Elroy
$45.00
$20.00 per each additional passenger/per group up to 11 people per trip.
Rates start from Speeds Bike Shop to the destinations above only.
Reservations are recommended.

Shuttle times:
Monday - Saturday 8:30 am, 10:30 am and 12:30 pm.
Afternoon Shuttles are available by appointment.